COMPLETE CLUB2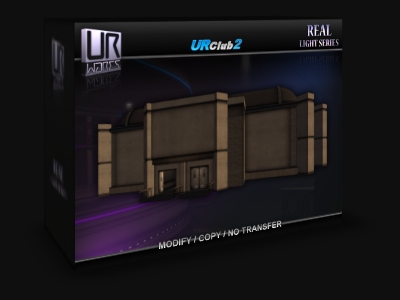 Second Life Marketplace

Update History
Menu

Product Overview

Product Content

Information

Manual
Product Overview
Version:
2.0
Last Update:
10-22-2011
Permissions:
Modify/Copy/No Transfer
Objects:
6
PrimCounts:
Price:
L$3500
Product Content
[URW]_CLUB_2_REZBOX
[URW]_CLUB_2_NOTE
Information
[URW]_CLUB_2:
**No lights included version**
Complete Club
Mod/Copy/No Transfer
2 floors
DJ Booth
Bar with Bottles and bar stools
Club Benches
Fully functional Doors
Stage
Neon and tubelights
Stairs and Fully functional Elevator with sounds
Bright shaded texturing on the inside
Mega Prims with in and outside shadow
Manual
[URW]_CLUB_2:
1. MAKE SURE YOU HAVE ENOUGH SPACE.
2. KEEP DISTANCE OF SIM/PARCEL BORDERS.
3. REZ THE [URW]_CLUB_2_REZBOX FROM YOUR INVENTORY TO THE GROUND.
4. CLICK ON IT AND CHOOSE BUILD IN THE MENU.
5. YOU CAN MOVE/ROTATE THE BOX AROUND TO PLACE THE CLUB TO ITS FINAL POSITION.
6. IN CASE PARTS ARE STILL DISPLACED AFTER REZZING; SLIGHTLY MOVE THE REZBOX A BIT.
7. WHEN YOU ARE FINISHED, CHOOSE DONE, ALL SCRIPTS OF COMPONENTS WILL THE BE REMOVED.
8. REMOVE REZBOX.
9. CLICK THE "SET" BUTTON ON THE INSIDE OF THE ELEVATOR WITHOUT OPENING THE DOORS FIRST.
Use camera to get inside the elevator.
With the "SET" button the elevator determines its new position.
No need to press the "SET" button ever again, unless you change the position of the club.
10. REMOVE THE WARNING SIGNS IN FRONT OF THE ELEVATOR.
11. DONE!
Update History
VERSION: 1.0, 09-11-2010

To the top.