TRAIN STATION 1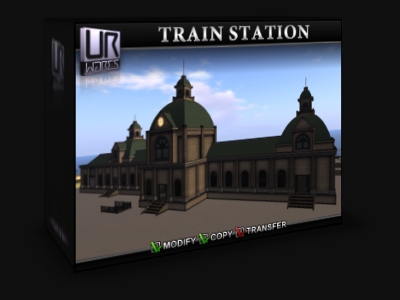 Second Life Marketplace

Update History
Menu

Product Overview

Product Content

Information

Manual

Update History
Product Overview
Version:
1.1
Last Update:
04-03-2011
Permissions:
Modify/Copy/No Transfer
PrimCounts:
Price:
L$2500
Product Content
[URW]_STATION_REZBOX
[URW]_STATION_BENCH_1
[URW]_STATION_BENCH_2
[URW]_STATION_GARBAGE_BIN
[URW]_STATION_CLOCK_BIG
[URW]_STATION_CLOCK_SMALL
[URW]_STATION_FENCE_1
[URW]_STATION_FENCE_2
[URW]_T2_STR_30_A
[URW]_T2_STR_30_B
[URW]_STATION_SLOPES
UPDATER
Information
[URW]_STATION_1:
Modifiable Complete Train Station with Scenery
4 Platforms with Roof and Lights
Platforms accessible via Stairs and Elevators
Working Animated Elevators with Sound
Cargo Handling Area wit working Doors
Straight pieces of Track with Overhead Wire
Working Clocks
2 Different Benches, Garbage Bin
Plaform Slopes
Size: 120 x 80
Manual
[URW]_STATION_1:
1. MAKE SURE YOU HAVE ENOUGH SPACE.
2. KEEP DISTANCE FROM SIM/PARCEL BORDERS.
3. REZ THE [URW]_STATION_REZBOX FROM YOUR INVENTORY TO THE GROUND.
4. CLICK ON IT AND CHOOSE BUILD IN THE MENU.
5. YOU CAN MOVE/ROTATE THE REZBOX AROUND TO PLACE THE STATION TO ITS FINAL POSITION.
6. WHEN YOU ARE FINISHED, CHOOSE DONE, ALL SCRIPTS OF COMPONENTS WILL BE REMOVED.
7. REMOVE REZBOX.
ELEVATORS:
* CLICK THE "SET" BUTTON NEXT TO THE BASE FLOOR ELEVATOR DOORS.
* A MENU WILL APPEAR:
* Rez Elevator: To rez your elevator. After rezzing it is ready for use.
* Reset: To reset your elevator.
* Exit Menu: To exit the menu.
UPDATER:
* Rez and click to check for product updates.
Update History
VERSION: 1.1, 04-03-2011

To the top.