TRAFFIC LIGHTS 1 PACK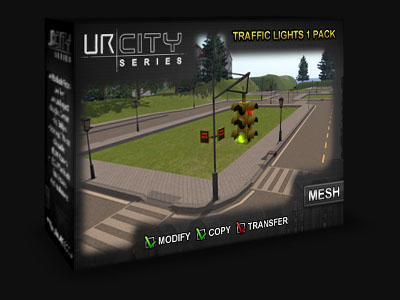 Second Life Marketplace

Update History
Menu

Product Overview

Product Content

Information

Manual

Update History
Product Overview
Version:
1.03
Last Update:
12-05-2020
Permissions:
Modify/Copy/No Transfer
MESH/PRIMS:
MESH
LAND IMPACT:
Variable, 1 - 12
Price:
L$200
Product Content
[URCS]_Traffic_Light_1Way
[URCS]_Traffic_Light_3Way
[URCS]_Traffic_Light_4Way
[URCS]_Traffic_Light_1Way_NoShadow
[URCS]_Traffic_Light_3Way_NoShadow
[URCS]_Traffic_Light_4Way_NoShadow
[URCS]_Pedestrian_Parent_L
[URCS]_Pedestrian_Child_L
[URCS]_Pedestrian_Parent_R
[URCS]_Pedestrian_Child_R
[URCS]_Pedestrian_Light_Parent_SA
[URCS]_Pedestrian_Light_Child_SA
[URCS]_Traffic_Lights_1_Updater
[URCS]_Traffic_Lights_1_NOTE
Information
Traffic Lights 1 Pack:
UR City Series Traffic Lights 1 is a fully functional and adjustable Traffic Light System.
Low Lag and Low Script.
4 Different Traffic Lights.
4, 3, 1 Way Traffic Lights.
Pedestrian Traffic Lights.
Adjustable Time settings.
Create Groups of Traffic and Pedestrian Traffic Lights.
Advanced Controller with Breaker (Power), ON/Out Of Order and Set Light Color.
Controller Shutter.
Free Updates.
Manual
Traffic Lights 1 Pack:
Traffic_Lights_1 usage:
Rez a Traffic Light.
Each Traffic Light has a Controller hidden by a Shutter, Click to open.
Controller

BREAKER: Turns Power ON/OFF.
ON/OFF: Turns the Traffic Light ON or Out Of Order (Light blinks Orange).
SET LIGHT: Turns light constantly Red, Orange or Green or OFF.
MENU: Load Data (see below) and Exit Menu.
Advanced Settings Traffic Lights Description Field usage:
In the Building Tool, General Tab at Description you see a couple of Values:
1, 15, 5, 3, FALSE

Serial Number: To assign the Traffic Light to a Group in combination with Pedestrian Lights.
Time Green: The time the light stays Green.
Time Orange: The time the light stays Orange.
Time Between Lights: The time between the red light of one and the green light of another.
Pedestrian Lights: TRUE or FALSE.
After changing Values, click the Menu Button of the Controller and choose "Load Data".
Changes will be confirmed.
Pedestrian Traffic Light usage:
Rez a Pedestrian Traffic Parent Light.
At the Description Field you can enter the Serial Number to assign it to a Traffic Light.
Click it to enable/disable the Pedestrain Traffic Light.
You can link Child Pedestrian Traffic Lights to one Parent Pedestrian Traffic Light.
Don't link the Pedestrain Lights to the regular Traffic Lights!
When there is an update available just rez the [URCS]_Traffic_Lights_1_Updater and press it.
* Can take up to 20 seconds before you'll recieve a response.
Update History
VERSION: 1.03, 12-05-2020
VERSION: 1.02, 07-20-2012
FIXED: Modify/Copy Permissions on SA Pedestrian Lights.
VERSION: 1.01, 05-23-2012

To the top.