TREE PACK VOL. 1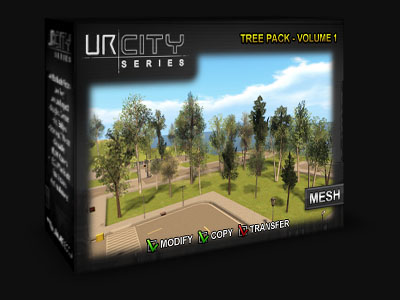 Second Life Marketplace

Update History
Menu

Product Overview

Product Content

Information
Product Overview
Version:
1
Released:
07-20-2012
Permissions:
Modify/Copy/No Transfer
MESH/PRIMS:
MESH
LAND IMPACT:
3 - 7
Price:
L$250
Product Content
[URCS]_Tree_1a
[URCS]_Tree_1b
[URCS]_Tree_1c
[URCS]_Tree_2a
[URCS]_Tree_2b
[URCS]_Tree_2c
[URCS]_Tree_3a
[URCS]_Tree_3b
[URCS]_Tree_3c
[URCS]_Tree_4a
[URCS]_Tree_4b
[URCS]_Tree_4c
[URCS]_Tree_5a
[URCS]_Tree_5b
[URCS]_Tree_5c
[URCS]_Tree_6a
[URCS]_Tree_6b
[URCS]_Tree_6c
[URCS]_Tree_7a
[URCS]_Tree_7b
[URCS]_Tree_7c
[URCS]_Tree_8a
[URCS]_Tree_8b
[URCS]_Tree_8c
[URCS]_Tree_9a
[URCS]_Tree_9b
[URCS]_Tree_9c
Information
SEWER DRAIN 1 PACK:
The Package contains 9 Sorts of Trees.
27 Different Trees
Low Poly and Low Land Impact.
Fully Modifiable and Copy.

To the top.