FX FOUNTAIN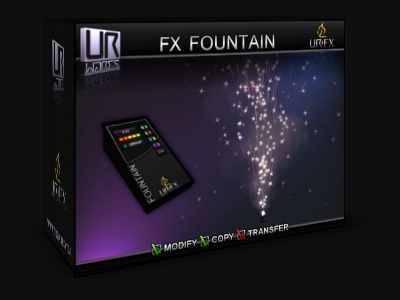 Second Life Marketplace

Update History
Menu

Product Overview

Product Content

Information

Manual

Update History
Product Overview
Version:
1.6
Last Update:
12-02-2020
Permissions:
Modify/Copy/No Transfer
Objects:
2
PrimCounts:
FX FOUNTAIN: 3
Controller: 4
Price:
L$550
Product Content
[URW]_FX_FOUNTAIN
[URW]_FX_FOUNTAIN_XYZ
[URW]_FX_FOUNTAIN_CONTROLLER
[URW]_FX_FOUNTAIN_NOTE
Information
[URW]_FX_FOUNTAIN:
The [URW]_FX_FOUNTAIN is a fireworks fountain particle effect.
It can be used on Concert Stages and in Clubs or as part of a Firework show.
You can determine 3 times and 3 delay settings.
The [URW]_FX_FOUNTAIN_XYZ version can be used in any direction.
It will emit the particles the same way as the FX_FOUNTAIN_XYZ rotation.
Manual
[URW]_FX_FOUNTAIN:
When the FX_FOUNTAIN prim is touched by the owner, a menu will appear with the following options:
TIME 1.2, 2.0, 4.0: You can set a time that the effect produces particles. Default is Time 1.2.
DELAY 0.0, 1.0, 2.0: You can set a effect delay. Default is Delay 0.0.
SOUND ON/OFF: Enables/Disables the FX FOUNTAIN Sound effect.
Exit Menu: To exit the menu the correct way.
[URW]_FX_FOUNTAIN_CONTROLLER:
The Controller has 10 buttons;
GO: Starts the effect.
COLORS: To set effect Color: White, green, Orange, Red, Blue, Yellow, Purple, Magenta.
MENU: Shows Menu.
MENU:
Owner, Group, All: You can make the Controller accessible for Owner, Group and All. Default is Group.
UPDATE: To check for product updates. Can take up to 20 seconds before you'll recieve a response.
Update History
VERSION: 1.6, 12-02-2020
VERSION: 1.5, 03-06-2012
FIXED: [URW]_FX_FOUNTAIN_XYZ not Copy.
VERSION: 1.4, 03-05-2012
ADDED: [URW]_FX_FOUNTAIN_XYZ version.
VERSION: 1.3, 02-21-2012
FIXED: Controller Owner, Group, All rights.
CHANGED: Controller is now modifiable.
VERSION: 1.2, 10-22-2011
ADDED: Sound On/Off function added to the FX_FOUNTAIN Menu.
VERSION: 1.1, 05-27-2011
ADDED: FX_FOUNTAIN has been added to the HUD, please update HUD to version 1.9 ID or higher.
VERSION: 1.0, 04-14-2011

To the top.