FX LASER Ai500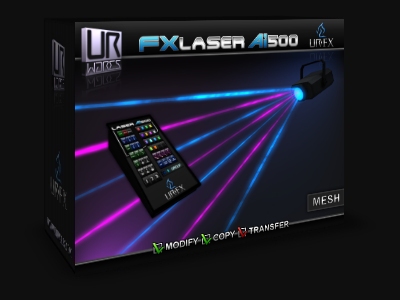 Second Life Marketplace

Update History
Menu

Product Overview

Product Content

Information

Manual

Advanced Set-Up

Update History
Product Overview
Version:
1.1
Last Update:
02-21-2012
Permissions:
Modify/Copy/No Transfer
Objects:
2
PrimCounts:
FX_LASER_Ai500: 5 Prims, 14 Prims equivs (Mesh).
Controller: 4
Price:
L$750
Product Content
[URW]_FX_LASER_Ai500_L
[URW]_FX_LASER_Ai500_CTRL
[URW]_FX_LASER_Ai500_NOTE
Information
[URW]_FX_LASER_Ai500:
** MESH OBJECTS USED**
The FX_LASER_Ai500 is a realistic multifunctional Laser light effect.
The FX_LASER_Ai500 has:
5 Different laser beams.
8 Different Colors.
6 Two Color Themes.
4 Flash modes and Flash Off.
3 Animation Rotation modes, Reverse Animation Rotation and Animation Rotation Off.
4 Laser beam sizes.
3 Programs, Random Colors, Random All, Color In Order and Program Off.
Manual
[URW]_FX_LASER_Ai500
When the FX_LASER_Ai500 hanging prim is pressed by the owner, a menu will appear with the following options:
RESET: Resets your FX_LASER to the original settings.
SET 1, 2, 3: You can create up to 3 groups of FX_LASER_Ai500s. Default is Set 1.
Exit Menu: To exit the menu the correct way.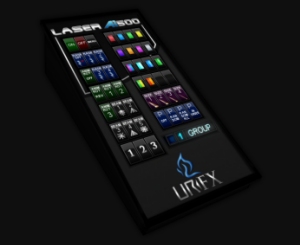 [URW]_FX_LASER_Ai500_CTRL:
The Controller has 45 buttons:
ON: The last known Program/State will be started.
OFF: Turns both the FX_LASER and Controller off.
1, 2, 3: To access FX_LASERs who are assigned to SET 1, SET 2 or SET 3.
FLASH OFF, 1, 2, 3, 4: Starts/Stops the FX_LASER Flash Mode.
ANIM ROT OFF, REV, 1, 2, 3: Starts/Stops/Reverses the FX_LASER Animation Rotation Mode.
COLORS: FX_LASER Colors are: red, blue, green, yellow, purple, orange, magenta and white.
THEMES: FX_LASER Colors are: UR, POOL, OCEAN, TOXIC, LEMON, LAVA.
SIZE 1, 2, 3, 4: Changes Beam sizes.
P OFF: Stops the Random/In Order Programs.
RANDOM: Starts the FX_LASER Random Colors Program.
RANDOM ALL: Starts the FX_LASER Random All Program. All modes Random combined.
IN ORDER: Starts the FX_LASER Color In Order Program.
CONTROLLER MENU:
Owner, Group, All: Makes the Controller accessible for Owner, Group and All. Default is Group.
RESET: To restore the controllers default settings.
Update: To check for product updates. * Can take up to 20 seconds before you'll recieve a response.
Advanced Set-Up
[URW]_FX_LASER_Ai500:
It is possible to change each laser beams glow, transparency and timer settings by hand.
To do so, select each beam and change the values in the name and description fields.
The Name field contains the transparency value for the laser beams.*
The Description field contains the transparency value for the laser planes.*
* Range 0.00 - 1.00 (clear - solid). To change the program random timer, select the hanging prim and change the value.
The Description field contains the timer value.**
** Range 5.0 - ~~ (seconds). To make the changes permanent click the FX Laser hanging prim and choose RESET from the Menu.
Update History
VERSION: 1.1, 02-21-2012
FIXED: Controller Owner, Group, All rights.
CHANGED: Controller is now modifiable.
VERSION: 1.0, 09-29-2011

To the top.