TREE PACK VOLUME 1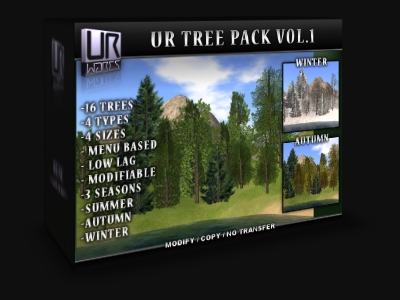 Second Life Marketplace

Update History
Menu

Product Overview

Product Content

Information

Manual
Product Overview
Version:
1.0
Last Update:
01-15-2009
Permissions:
Modify/Copy/No Transfer
Objects:
16
PrimCounts:
Price:
L$500
Product Content
[URW]_TREE_LP_1_S
[URW]_TREE_LP_1_M
[URW]_TREE_LP_1_L
[URW]_TREE_LP_1_XL
[URW]_TREE_LP_2_S
[URW]_TREE_LP_2_M
[URW]_TREE_LP_2_L
[URW]_TREE_LP_2_XL
[URW]_TREE_LP_3_S
[URW]_TREE_LP_3_M
[URW]_TREE_LP_3_L
[URW]_TREE_LP_3_XL
[URW]_TREE_LP_4_S
[URW]_TREE_LP_4_M
[URW]_TREE_LP_4_L
[URW]_TREE_LP_4_XL
Information
TREE PACK VOLUME 1:
16 TREES
4 TYPES
4 SIZES
MENU BASED
3 SEASONS; Summer, Autumn and Winter
Models are modifiable
Manual
TREE PACK VOLUME 1:
To change the season click on the top sculpty branch.
A menu will appear.
Choose the desired season.
Update History
VERSION: 1.0, 01-15-2009

To the top.