DJ MIXER 1100E_MX_SET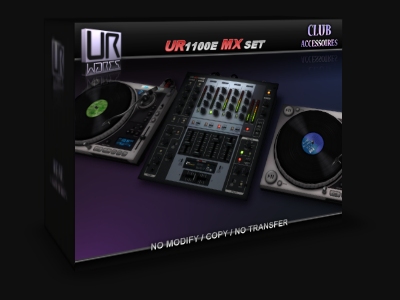 See product InWorld

Second Life Marketplace

Update History
Menu

Product Overview

Product Content

Information

Manual

Update History
Product Overview
Version:
1.0
Last Update:
09-15-2010
Permissions:
No Modify/Copy/No Transfer
Objects:
1
PrimCounts:
Price:
L$850
Product Content
[URW]_1100E_MX_SET
[URW]_1100E_MX_SET_SHADED
[URW]_1100E_MX_SET_NOTE
Information
[URW]_1100E_MX_SET:
Complete high resolution and detailed DJ mixer Set
Normal and Shaded versions
DJ Mixer with crossfaders and Db light effects
2 Rotating DJ Turntables with CD player
Choose 5 different LPs
Realistic Cables and Plugs
Shadow effect included
Manual
[URW]_1100E_MX_SET:
1. To enable crossfader Db light effects click the mixer (group)
2. To change the LP click the LPon the turntable
3. To Start/Stop rotation click the Start/Pause buttons
Update History
VERSION: 1.0, 09-15-2010

To the top.