TRUSS 2 SYSTEM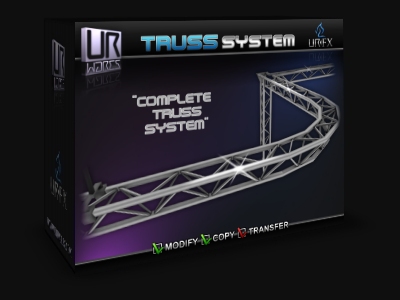 Second Life Marketplace

Update History
Menu

Product Overview

Product Content

Information

Features

Update History
Product Overview
Version:
1.01
Last Update:
04-10-2012
Permissions:
Modify/Copy/No Transfer
Land Impact:
Variable
Price:
L$450
Product Content
[URW]_TRUSS2_Str_2
[URW]_TRUSS2_Str_4
[URW]_TRUSS2_Str_8
[URW]_TRUSS2_Str_S
[URW]_TRUSS2_Round_90
[URW]_TRUSS2_Round_45
[URW]_TRUSS2_Support
[URW]_TRUSS2_Plate
[URW]_TRUSS2_Angle_T_S
[URW]_TRUSS2_Angle_T
[URW]_TRUSS2_Angle_90_S
[URW]_TRUSS2_Angle_90
[URW]_TRUSS2_Angle_90_Top
[URW]_TRUSS2_Angle_45_D
[URW]_TRUSS2_Angle_45_U
[URW]_TRUSS2_Angle_22.5_D
[URW]_TRUSS2_Angle_22.5_U
[URW]_TRUSS2_LayOut_1
[URW]_TRUSS2_LayOut_2
[URW]_TRUSS2_LayOut_3
[URW]_TRUSS2_LayOut_4
[URW]_TRUSS2_LayOut_5
[URW]_TRUSS2_Updater
[URW]_TRUSS2_SYSTEM_NOTE
Information
TRUSS 2 SYSTEM:
Complete 17 pieces TRUSS System for use in Clubs, Bars and Concert Stages which can be used to install club lighting systems.
The TRUSS System is completely modifiable so colors and sizes can be changed. 5 Different preconstructed LayOuts included in the package.
Features
Completely modifiable.
17 Different pieces.
Straights: 2, 4 and 8 mtrs.
Corners: 45 and 90 degrees.
T-pieces, Angles pieces, etc.
Floor/Wall Plate and Roof Support system.
5 Different Preconstructed LayOuts.
Update Service.
Update History
VERSION: 1.01, 04-10-2012

To the top.